Loading...
Riverfront A205 in Lincoln NH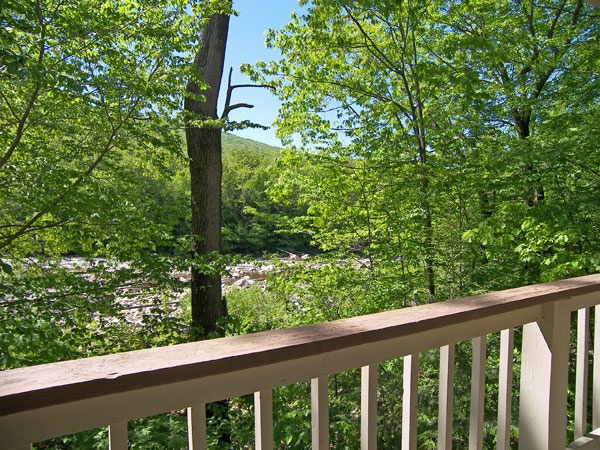 This three bedroom second floor Riverfront condo provides a river view and all the comforts of home. In the entry you will find bench seating for comfortably removing your shoes and a stacked washer and dryer set. The spacious living room offers a wood burning fireplace and a flat screen television with DVD and Google Chromecast. The living area also provides sliding door access to the back deck with a river view and view of Loon Mountain's South Peak slopes. TThe dining area holds air conditioning unit and seats six with three additional seats available close-by at the kitchen counter. The newly remodeled kitchen offers granite counter tops, stainless steel appliances and all the utensils and pots and pans you will need to make a home cooked meal. The master bedroom is located on the entry side of the living area and has a river view. In the master you will find a deep king bed, a flat screen television, air conditioning and a private remodeled 3/4 bath. On the far side of the living area are the remaining two bedrooms separated by a full bath. One bedroom offers two twin beds, a television, air conditioning and a river view. The final bedroom has a set of bunk beds with a twin trundle bed, air conditioning and a small television.

During the summer season make sure to take a dip in the near-by old fashion river swimming hole or spend time at one of the two outdoor pools. Tennis courts are also available throughout the summer. Locally you will find plenty of seasonal and year-round activities to fill your time including shopping, golfing, mini-golfing, amusement parks (including a local waterpark), gondola / tram rides, natural attractions, alpine skiing and snowboarding, nordic skiing, snowshoeing, hiking, mountain biking, river swimming, kayaking, bird watching and much more.

Pools and courts may be unavailable for short periods due to mechanical or physical maintenance. Admittance may be denied for non-adherence to pool/court rules.

CSA Travel Protection may be available. For description of coverage (Plan Code G320CSA) please visit: ?product=g-320csa .
Bed Types: 1 King Beds, 3 Single/Twin Beds, 1 Bunk Beds
Travel Protection may be available. Ask us for details.
Reservations made on the web are subject to final confirmation by phone.
Subject to errors and omissions. This listing does not constitute a guarantee of the facts stated herein.
RA205- Managed by Loon Reservation Service - NH Meals & Rooms Lic# 056365